I am so excited to share with you the news
about Miss. Sassy. She has been
featured on Nifty Thrifty Tuesday.
Yes, you heard me she is a STAR.
http://linda-coastalcharm.blogspot.com/2013/07/nifty-thrifty-tuesday-no171.html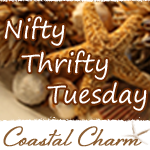 I have enjoyed
playing dress up with her.
She is such a good sport.
She is pulling off that Sassy attitude with
Since I want to use her for jewelry display
in my Tiny Cottage at Antiques at the Loop
I am working on a paper collar for her
which should help her necklace display well.
When I finish she will look grand.
I am thinking of using lace for Christmas on her
that will put her in the holiday spirit.
decked out for Halloween. I can see her now in a witches hat.
Thank you Linda @ Coastal Charm