HELLO DEAR FRIENDS,
AS I HOP AROUND BLOGLAND I SEE YOU HAVE BEEN BITTEN WITH THE HALLOWEEN INSPIRATION BUG.
I THINK I HAVE ENJOYED HALLOWEEN DECORATING MORE THAN
USUAL, I THINK IT IS BECAUSE I HAVE BEEN SHARING
IT WITH YOU. WHEN I VISIT YOUR SITES I AM
BLOWN AWAY BY YOUR CREATIVITY.
THERE HAD BEEN TIMES WHEN I FELT LIKE THE ONLY
HALLOWEEN NUT OUT THERE.BUT NO MORE.
I WANTED TO BRING ORANGE INTO MY HALLOWEEN
DECORATING AND IT SEEMS
THAT THE BLACK AND WHITE WAS WINNING.
CONSIDERING ORANGE IS ONE OF MY MOST
FAVORITE COLORS, I USED IT IN THE DINING
ROOM AND KITCHEN.
I SWITCHED OUT A FEW PLATES,
DECORATED A COUPLE OF BLACK MOCK FEATHER TREES
WITH MORE ORNAMENTS AND SMALLS AND NOW
BY MAGIC I HAVE MY ORANGE.

SOMETIMES I FIND WHAT I NEED I ALREADY HAVE.
THIS PROJECT DIDN'T COST A PENNY.
IN TRUTH I COULD PROBABLY DECORATE A
COUPLE OF HOUSES WITH WHAT
I HAVE COLLECTED OVER
THE DECADES.
WHEN YOU BRING OUT LAST YEARS DECORATIONS
IT IS ALWAYS FUN TO SEE THE
NEW THINGS I ADDED TO MY COLLECTION. IT IS GETTING
NOW THAT I SEEM TO FORGET
FROM YEAR TO YEAR WHAT I BUY.
I HOPE YOU HAVE BEEN HAVING A BLAST DECORATING.
UNTIL NEXT TIME, HAPPY HAUNTINGS. KATHY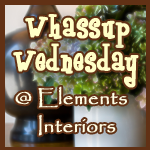 http://fadedcharmcottage.blogspot.com/2011/10/white-wednesday-121.html