HELLO FRIENDS,
I AM SO HAPP

Y,

HAPPY, HAPP

Y AND BLESSED.
I hope you are enjoying a lovely
spring. Here in the deep south it is
unbelievably

coo

l.
Finally I think I have my

blog MOJO back

.

D

espite that due to my carelessness I am short a decent camera and my phone is broke (I found out the hard way that they just don't like having a trunk slammed on them

).

I hop

e to remedy

it

this weekend.
I have been so busy in my yard this spring, enjoying every minute, that I can't
wait to share some of my

blessings.
This is the front of my tiny cottage, roses are in bloom and everything is so happy with the coo

l

days and nights.
My bird feeder is usually packed out
with those cute hungry critters. But it is almost dusk and they are heading to their nest

to settle in for the night.
To the left of my por

ch

this
20yr. old transplant graces
my yard. Oak Leaf's

are

wonderful.
I can sit

o

n my glass porch and enjoy the view while sipping my morning JAVA.
Drop by and visit Inspire Me Tuesday, and check out what Ricki Jill has bee

n up to
a brand new blog facelift. Just Terrifi

c
Thanks for

dropping

by, Kathy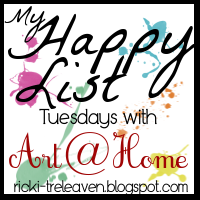 http://ricki-treleaven.blogspot.com/2013/05/my-happy-list-bloggy-friends-with-mad.html
A Tiny Cottage on Grand